We give wandering, neglected, or abandoned dogs and cats in the Madawaska area a second chance at life.
Our animals
We have dozens of animals waiting for a family. Click on the thumbnails to see their card.
Got a crush on them? You may fill the pre-adoption questionnaire. You may also get more information about adoption rates.
Make a donation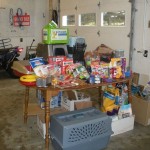 You may make money donations or material donations (litter, cages, food, leashes, etc.) to support our organization.
We're also looking for corporate sponsors to help us pay some advertisement or operational costs.
Become a volunteer
You may give some of your time as a volunteer or as a host family. We regularly refuse access to some animals since we don't have enough host families.
Also, volunteers are welcome to help us with different tasks.
Construction project
We presently operate thanks to the generosity of foster families who host our animals until they are adopted. But to continue our mission, we must do more. The Refuge Madawaska Shelter currently hopes to build a permanent shelter in the Edmundston area, precisely in the Madawaska Maliseet First Nation (view map) to continue fulfilling its mission. Having a building will increase the amount of lives saved, better vet care and better access to adoptable pets.
We've received a promise to raise $100,000 from Madawaska Maliseet First Nation Chief Patricia Bernard. We are missing the additional $250,000 needed to complete construction. Our architectural plans are made, a contractor has made the estimates and the construction will begin in 2014.
How will we survive? By having contracts and providing services to the surrounding municipalities and NB SPCA. Also by having one major fundraiser a year along with the small fundraisers we currently do (photography sessions, workshops with animal experts, selling pastries, etc.).
Progression of our fund raising campaign
$3,119,91 / $250,000 (objective)
MMFN fund raising campaign
$5,447,32 / $100,000 (objective)
Four paws, two hands, one